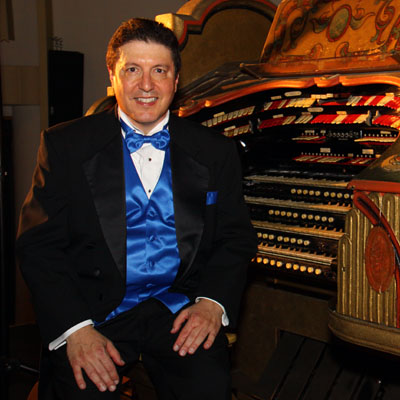 Pierre Fracalanza
Saturday, September 9, 2017
7:30 PM
Keystone Oaks High School (Dormont, PA)
Get your groove on with a special tribute to 1960s television when theatre organist Pierre Fracalanza returns to Pittsburgh. This lively program will sometimes be groovy, sometimes be campy, and always stir up memories of your favorite 1960s TV stars and entertainers. The program features Fracalanza's multi-media approach to theatre organ using unique projected videos to create a concert experience not only for the ears, but also for the eyes.
"I have a brand new program ready for Pittsburgh," says Pierre. "We're going to channel Ed Sullivan, plus many of the memorable television theme songs from the sixties. I also want to salute many of the great singers that appeared often on variety shows in the 1960s, people like Dionne Warwick, Petula Clark and even Dusty Springfield!" Also included in the proceedings will be a quiz on sixties television themes in which the audience can participate.
Pierre reflects fondly on his first visit to Pittsburgh in 2016. "I had such a great time playing for the PATOS audience last year. The people were just the best, and I immediately knew after that show that I wanted to return."
The son of a concert organist, Pierre Fracalanza attended the Eastman School of Music in Rochester, NY. In 2014, Pierre was a featured artist at the American Theatre Organ Society's annual convention in Chicago.
As usual, tickets are $20 at the door or $15 in advance. Students are admitted free with ID. Use the following link to buy your ticket online today!