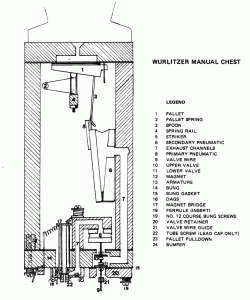 Most people are familiar with the sort of pipe organs installed in churches. The theatre organ, though similar in its working qualities, differs in some very significant ways. It is called a "Theatre Organ" because of its installation in virtually every movie house, large or small, during the 1920s and 1930s. The instrument's remarkable versatility — its ability to generate different musical sounds as well as sound effects to complement the action on screen — made it ideal for accompanying silent films, replacing pianos and theatre orchestras in that role.
The theatre organ was developed largely by British engineer Robert Hope-Jones, who designed the electro-pneumatic action which enabled the organist to get quicker precision response. He also designed the horse-shoe console with tongue-like stop tabs for ease of use, and, most importantly. he invented the unified system of registrations making it possible to play any rank from any manual and/or pedal. These aspects differ significantly from the classical organ. This development created what was referred to as "The Unit Orchestra" because an accomplished player could create sounds from the softest flute to a crescendo competing with a full symphony orchestra or military marching band. The staggering number of tonal combinations combined with varying degrees of tremulation and special effects help the theatre organ to generate a satisfying emotional impact on the listener.
The theatre organ's versatility makes it ideal for performing many styles of music, from classical to jazz to Broadway showtunes and more. An accomplished organist can play full orchestral or band arrangements of both classical and contemporary compositions with an awesome display of virtuosity.
The theatre organ is sometimes also known as the "Unit Orchestra" because many of its pipe ranks were designed to simulate instruments common to bands and orchestras from violins, violas, and cellos to trumpets, saxophones, flutes, and tubas. In addition, unique stops such as Tibias, Diaphone, Kinura, Krumet, etc. all blended to create a rich palette of sounds.  With the Diapason Rank (the foundation of the classical church organ) and the flip of  switch, the organ can beautifully render liturgical music such as Bach's Chorales, Masses, and his exciting Toccata and Fugues as well. Even Andrew Lloyd-Webber's Phantom of the Opera sounds quite effective!