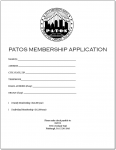 As a PATOS member, you will help to further our mission, plus, you'll enjoy these additional membership benefits:
PATOS Membership Benefits:
• Discount concert ticket prices
• Subscription to the Society's periodic newsletter, Pipes of PATOS, filled with theatre organ news and features
• Open console privileges… A chance to try your hand at our 3 manual, 19 rank Mighty WurliTzer
• Eligibility for various society activities such as the annual picnic, the Christmas party, and occasional bus trips
• Notification of all concerts and PATOS functions
We invite all PATOS members to become more active in the society. You might choose to assist in a clerical or administrative capacity or you might desire something a little more technical such as helping to maintain the pipe organ. Preserving our Mighty WurliTzer is a lot of work and there is never a shortage of things to do. We welcome your participation. Of course, your direct participation is purely optional. However, you can help in more ways than you realize. No previous experience or musical ability is required, and the personal rewards are substantial.
Most importantly, by becoming a member, you will benefit from the knowledge that you are helping to ensure that the theatre pipe organ will be heard in the Pittsburgh area for years to come.
Membership in PATOS is available by paying the annual $12.00 dues to PATOS, 5356 Overland Trail, Pittsburgh PA, 15236. Click here to download the application form (PDF).