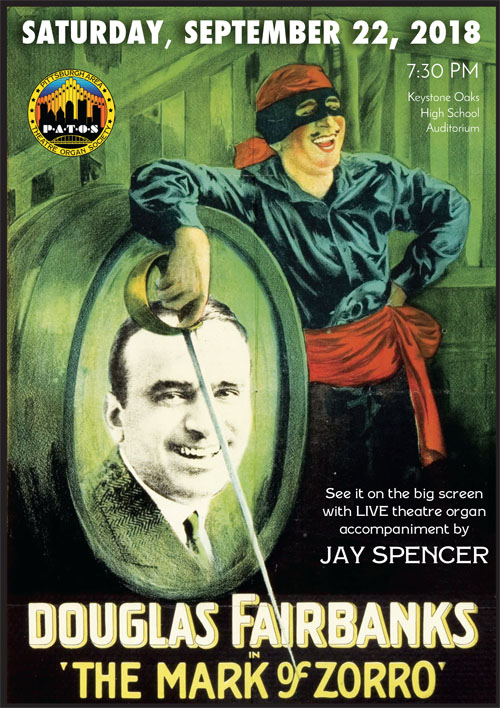 Jay Spencer accompanies The Mark of Zorro
Saturday, September 22, 2018
7:30 PM
Keystone Oaks High School (Dormont, PA)
The Mark of Zorro, a swashbuckling 1920 silent film starring Douglas Fairbanks, will be presented with live theatre organ accompaniment on Saturday, September 22, 2018, 7:30pm at Keystone Oaks Auditorium in Dormont.
Silent film organist Jay Spencer, the house organist at the Palace Theatre in Canton, Ohio, will accompany this landmark film on the 3 manual PATOS Wurlitzer theatre organ.
This is the film that launched the movie career of Douglas Fairbanks.  He was a 1920s screen idol famous for playing action heroes in such pictures as "Robin Hood," "The Black Pirate," and "The Three Musketeers."  His marriage to another screen idol, Mary Pickford, was the most famous in Hollywood, affording both even more popularity among the film-going masses.
"This film hasn't been shown in Pittsburgh for quite some time," according to Dale Abraham, president of PATOS, "so this is a great opportunity for film buffs to experience the movie with live organ accompaniment, exactly the way it was presented in 1920."
Jay Spencer is an expert silent film accompanist and has appeared in Pittsburgh many times, most recently for PATOS in 2016 with "The Cat and the Canary."  He's celebrating 25 years as house organist at the ornate Palace Theatre, home of the only Kilgen theatre organ still playing in its original venue.  The Kilgen was installed in Canton's Palace in 1926.   "It's played practically every weekend," says Mr. Spencer.  "The people love it here."
The love of organ runs deep in Jay Spencer's family, too.  "Both sets of my grandparents owned organs, and my dad's mom played piano for silent movies in the 1920s." Jay also has three organs in his own home.
As for performing with silent films at the Palace Theatre, Jay muses, "I can't believe I get to do this, playing this instrument that is 92 years old and still going strong."
To purchase tickets, please click on the following link: www.showclix.com/event/MarkofZorro.   Admission is $15 in advance, or $20 at the door.  Students are free with ID.